Violet lance officiellement son Karotz sur le marché US.  Il s'agit dans le positionnement de l'objet du premier Lapin Intelligent compatible avec les réseaux sociaux.
Pour coïncider avec les lancement des compagnons robotiques que sont les lapins intelligents, Violet a développé un nouveau Karotz – le premier hardware pour Facebook et Twitter disponible exclusivement aux US.
Voici le communiqué de presse en anglais (marché US oblige):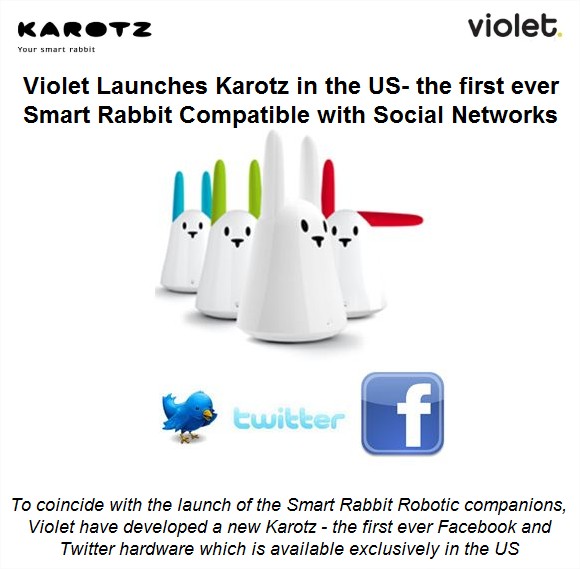 ———————————
To coincide with the launch of the Smart Rabbit Robotic companions, Violet have developed a new Karotz – the first ever Facebook and Twitter hardware which is available exclusively in the US
CES, Las Vegas, 10th January – Violet is excited to announce the long awaited US launch of the Karotz smart rabbit which is the first ever hardware device which has been tailor made especially for Facebook.  Karotz is the third generation of the multipurpose, internet-connected rabbits that first launched in 2005 as Nabaztag, and has since become a worldwide phenomenon.  The immensely popular robotic companions transform daily life by providing a link to the family, friends and the world and now the compatibility with Facebook is a wonderful addition to Karotz' already extensive range of features. 
This smart rabbit enables its owner to connect to their Facebook account and is the first ever hardware device to be compatible with the key social media sites (including Twitter) allowing people to interact via their favorite companion.  Now friends can take control of your new companion Karotz to communicate with you by sending messages and audio files, using the Karotz integrated webcam to see what it sees, sending a poke or moving Karotz' ears and changing the color of its light to get your attention.  Karotz can even record and post status updates as an audio file, text or photo directly to your Facebook wall. In fact Karotz leads us to a new interactive experience in order to benefit from the richness of the Internet, which opens up a new form of connected lifestyles!
"We are excited to launch the widely popular Karotz smart rabbit with the US and to make the new Facebook compatible devices available here first ", Fabien Bardinet, CEO of Violet. "Karotz' unbelievable success in Europe leads us to believe it will do very well in the US, where there are more than 157M Facebook users. The concept behind Karotz is to make communicating with friends and sharing information both an interactive and fun experience."
Karotz is a clever rabbit and can respond to questions and requests by using advanced voice recognition software and the internet to search for what its owner is looking for.  The connected companion has the ability to play music; check for new emails; read the weather forecast, RSS feeds, tweets and more.  Karotz has also the ability to share what it sees or listen, using its camera or microphone. Karotz is at the heart of people's lives and in sync with all the important events in the day. 
Violet also offers a wide range of Karotz accessories including the Nanoztag and the Flatnanoz key ring tags which feature RFID chips and can be used to launch an application or to check in and send an email to alert the Karotz owner when their child or roommate is home.   Karotz owners can customize the look of their little buddy with a USB tail or Skinz tattoos.
The free Karotz Controller application is currently available from the Appstore and on Android Market!
 
The Karotz smart rabbit is available now at Karotz.com, Amazon.com, Brookstone.com, J&R.com, Computerworld.com, thinkgeek.com for $129.99 MSRP.
Follow Karotz on Twitter @Karotz and facebook.com/KarotzSmartRabbit for the latest news on the popular smart rabbit.
Links to Karotz videos:
Karotz is inquisitive! Yes, but it can also inform you when your child arrives home from school.
http://www.youtube.com/watch?v=2HScUVTL0P4
Karotz is unlimited! Yes, but you can control it remotely.
http://www.youtube.com/watch?v=QppHmGmkj_s
Karotz talks a lot! Yes, but it can also read e-mails and instant messages.
http://www.youtube.com/watch?v=jmCXOfPynVQ
Karotz does everything! Yes, but it can also wake you up every morning. If you wish.
http://www.youtube.com/watch?v=E9tnYlAE-Ow
About Violet and Karotz
Karotz is a multipurpose Internet-connected rabbit. He moves his ears, speaks, reads, listens, his body lights up and he even detects the presence of other objects (by sniffing them). As he is permanently connected to the Internet, he can act, react, transmit or broadcast many types of content available over his network, – news, messages, music, text, alerts, radio, etc. He can hear you, obey your commands and even recognize things you give it to "sniff".  Born in 2005, Nabaztag has since become an Icon for the new era of smart, communicating objects. Karotz was launched in 2011 and is the third generation of multipurpose rabbits. Amongst the new features, Karotz also knows how to see and can show its owner what it sees wherever they are situated in the world and they can also listen via a PC or a Smartphone. 
About Aldebaran Robotics
Founded in 2005 by Bruno Maisonnier and with offices in France, China, Japan and the United States, ALDEBARAN Robotics designs, produces and commercializes autonomous humanoid robots with the aim of contributing to the well-being of humans. Today, over 2000 NAOs are utilized throughout the world as research and educational platforms in 40 countries. ALDEBARAN Robotics brings together more than 160 people – including 65 engineers and PhDs – that are involved in the development and production of the robot. For further information, visit www.aldebaran-robotics.com/en  
———————————
Il n'y a pas plus d'informations que cela pour l'instant. A suivre donc…